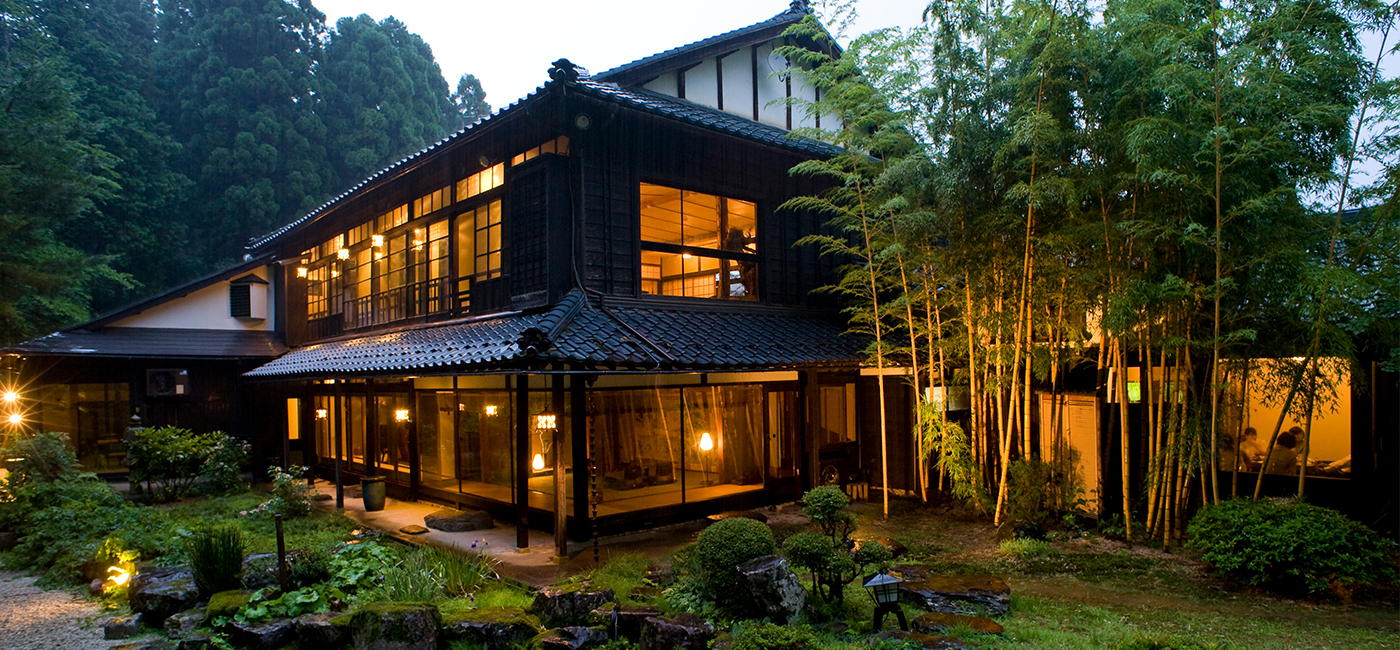 Introduction To JURAKUSEN
The appearance of our restaurant, nestled within the mountain backing Tounji Temple, retains traces of the Taisho period and provides a rejuvenating environment.
Located near the castle, we welcome you with heartfelt hospitality, including taste comparisons of local brands of alcohol, full course meals featuring Kamisho taro roots, seafood caught in nearby waters, grilled mackerel, deep-fried tofu, Wakasa beef and more.
And during winter, guests can enjoy Echizen crab shipped directly from fishermen.
The restaurant is also adjoined by a dining bar, lounge and beer garden.
The name Japanese Restaurant JURAKUSEN encompasses four establishments that are adjoining yet present completely different atmospheres.
After your banquet, you can enjoy an after-party and even an after-after-party all in the same location.
For guests visiting more than one establishment, we also offer discounted "after-party sets."
Each establishment is available for a private party. For details, please contact us.
Lunchtime Set Meals at Japanese Restaurant JURAKUSEN
Grilled mackerel set meal ¥2,500 (tax not included)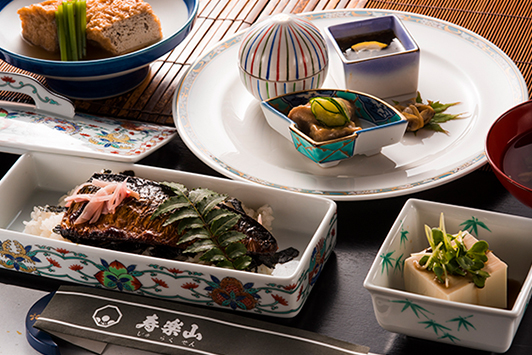 Kanamori set meal ¥3,500 (tax not included)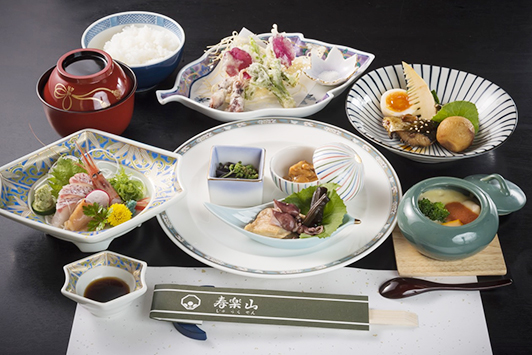 Taro full course ¥3,000 (tax not included)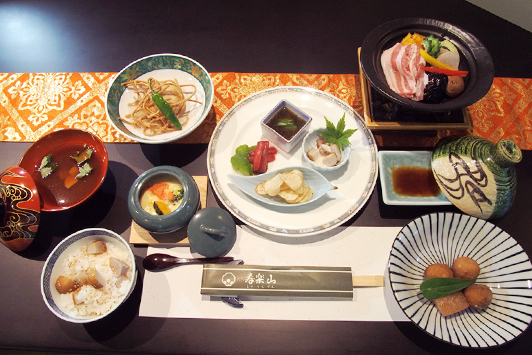 Sweetfish and deluxe soba noodle course ¥3,500 (tax not included)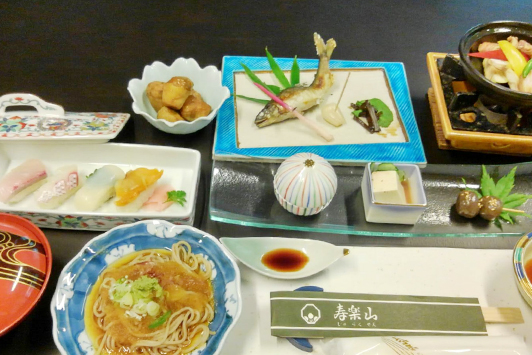 Memorial service cuisine ¥4,000~5,000 (tax not included; the photograph shows example course)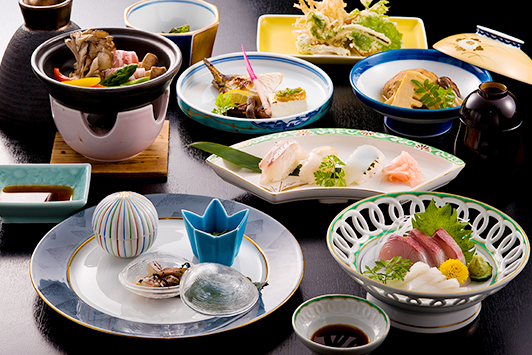 Cuisine sample course ¥6,200 (tax not included)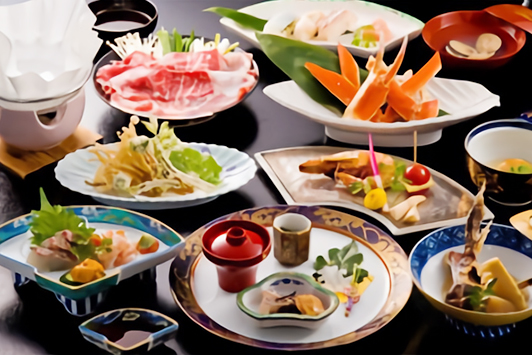 Introduction to adjoining establishments
A Relaxing Space
You can enjoy drinks, karaoke, and conversation all free from care.
In addition, after enjoying a banquet at Japanese Restaurant JURAKUSEN, you can visit our lounge for an after-party.
We invite you to spend a relaxing time in this comfortable environment.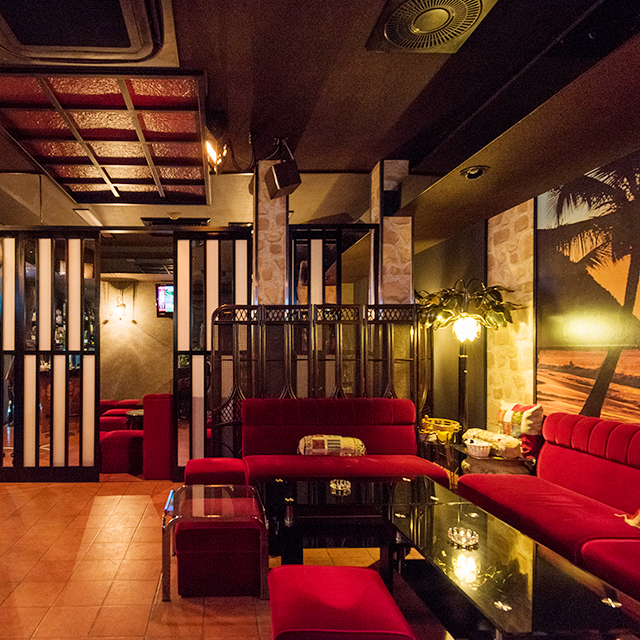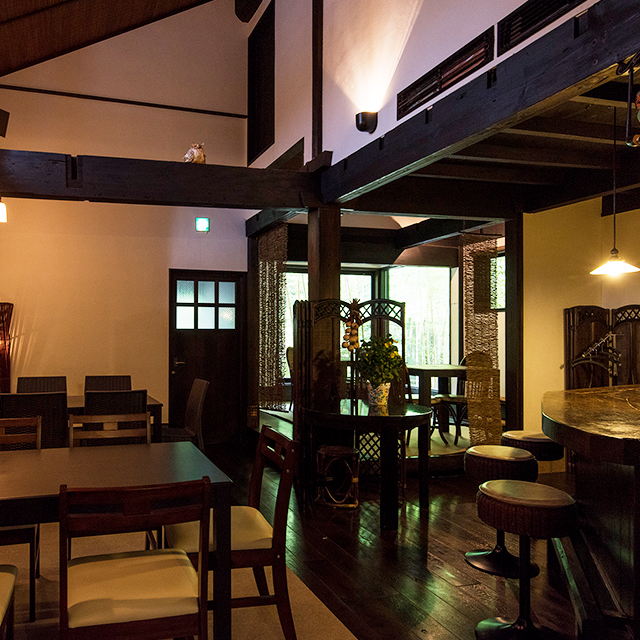 Be Sure To Try Our Yum Cha And Pizza. We Are Very Proud Of Them.
A warehouse redecorated in an Asian style, somewhat old-fashioned with the nostalgic-seeming interior, the atmosphere will rejuvenate you in mind and body.
You can enjoy cuisine from a broad range of countries, including Japanese, Western, Chinese, Italian and more, such as Yum Cha, pizza as well as super-spicy cuisine through to noodle dishes.
The large oil painting created by Masuo Ikeda displayed in the bar also receives very high praise from guests.
Please enjoy a wonderful time in our stylishly-decorated bar.
A Rejuvenating Beer Garden
Our illuminated, verdant garden provides a sublime environment. And at dusk, the Higurashi cicadas begin their chorus of chirping.
In addition to cold sake, shochu, wine, cocktails and more, we also offer All-You-Can-Drink courses and kegs for sale. In terms of cuisine, as a dining bar, we provide a wide variety of dishes.
There is no need to worry about the weather because, in the event of rain, you can continue eating and drinking inside the Dining Bar SEMICOLON. The facilities are also available for a private event, so feel free to hold reception after-parties, alumni meetings and more.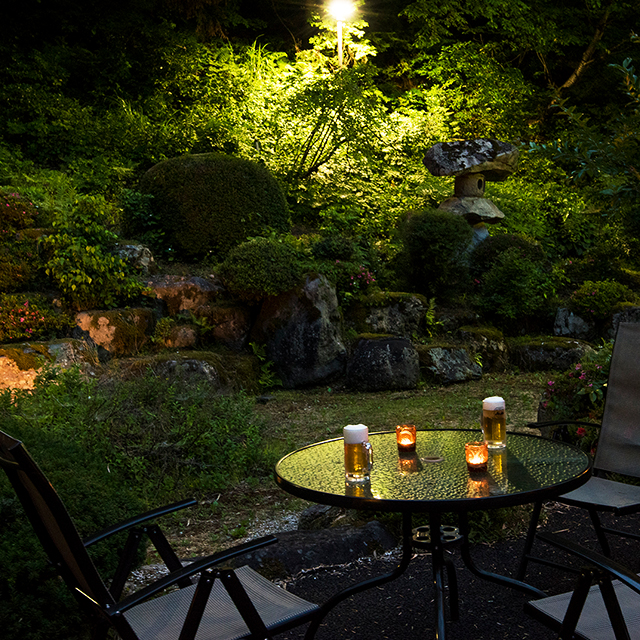 Nearby Spots For Outings
There are many famous places near our restaurant in Ono City, Fukui Prefecture. Please drop in here as well.
Restaurant Name
Japanese Restaurant JURAKUSEN
Administrator
JURAKUSEN LLC
Location
123-9 Seiryu, Ono-shi, Fukui-ken, 912-0092
TEL
0779-66-2455
FAX
0779-66-5455
Opening Hours
Lunch 12:00~ (reservations only) / Dinner 17:00~24:00
Banquet Times
Time of reservation ~ 23:00
(We accept reservations for wedding receptions, after-parties, concerts and more.)
Parking Lot
30 spaces (3 spaces for large buses / Lounge available for drivers and tour conductors)